SHED (Sealed Housing for Evaporative Determination)
RISI pioneered the first commercially available VT SHED in 1989 at the General Motors Proving Ground. RISI has installed more evaporative emission systems than any other supplier in the industry, with more than 200 installed systems worldwide and more evaporative emission experience than all other manufactures combined. Through our experience and expertise, most installations are up and running tests within three weeks of delivery.
The RISI Evaporative Emission product line includes Onboard Refueling & Vapor Recovery (OR VR) enclosures, Variable Temperature (VT) / Variable Volume (VV) SHED, SHED style Running Loss enclosures and Running Loss Point Source Sampling equipment. RISI is the only SHED supplier that fabricates their own insulated panels in-house and hand fits all components to ensure a perfect seal. The SHED control system offers a Windows 7TM based operating system, a Graphical User Interface, and configurable test sequence builder meeting all EC, EPA, and CARB requirements. RISI is also the only system supplier to offer three different volume compensation methods, including that which is utilized by the U.S. EPA for certification and audit testing.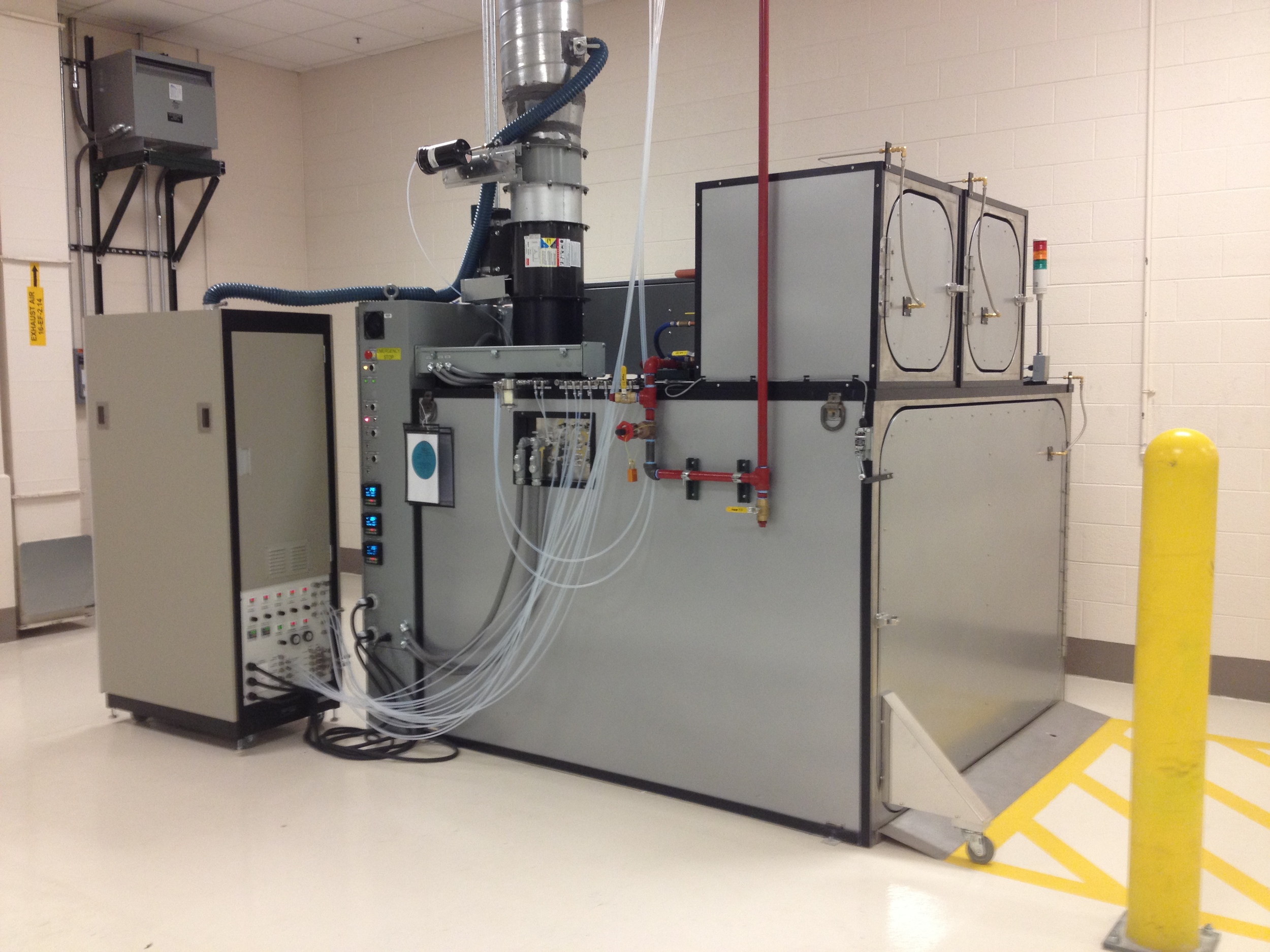 Features & Options
Complete duplicate EP A installation for closest possible EPA test correlation
Controlled aspiration volume control for EPA test duplication
Bag style volume control for BMW, Ford, GM, Honda, Mer- cedes and industry standard test duplication
Natural aspiration volume control for Chrysler test duplication
Windows 7tm based control system
RISI custom controls and Graphical User Interface
Interbus-S I/O system
User configurable test sequences and temperature profiles for versatility
User configurable alarm levels for custom test monitoring
Fuel spill containment trough to eliminate spill hazards
+/-0.2deg.C temperature control system for precision test environment repeatability
Variable flow ventilation system for multi-purpose testing
OR VR equipment and software
Inlet/Outlet purge system to enhance SHED purging
Emergency egress door for personnel safety
Custom SHED configuration Custom heating and cooling systems
Heated FID for oxygenated
Assembly
Work progress is tracked using RISI's computer scheduling system. After assembly is completed and tested, customers are invited to witness pre-shipment checkout. Through the use of these methods, installation and commissioning times have been reduced to three weeks.
Running Loss Systems
Running Loss systems are used to determine evaporative emission levels from motor vehicles while operating at elevated temperatures. This test is designed to determine a vehicles ability to handle vapor generated during resting and trapped by the carbon canister or other vapor storage device. RISI has developed and installed both the SHED style running loss emission measurement systems as well as the point source style systems.
Due to the many configurations and levels of integration, contact the RISI engineering staff to discuss particular requirements!